Juno Isles Civic Association is the homeowners association of Juno Isles. Established in the early 1960s and located between U.S. 1 and the Intracoastal waterway in North Palm Beach County, Florida, Juno Isles is a thriving community of over 330 homes.
The community did a wonderful job decorating for the holidays and the judges had a tough time choosing winners! Click here to view the winners for 2021 as well as some of the other decorated homes in the community!
Continue reading →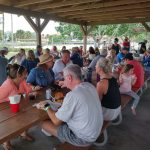 This year's community picnic was held at the Perry Como Pavilion at Ocean Cay Park and we had a great turn out! Lunch was catered by Park Ave BBQ and dessert provided by Loxahatchee Ice Cream Company. Residents enjoyed a great spread, time getting to know new neighbors and catching up with old neighbors, bounce … Continue reading →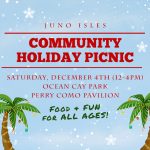 This year's Juno Isles picnic year will be held this Saturday, December 4th at the Perry Como Pavilion at Ocean Cay Park from 12-4PM.
Food will be catered by Park Ave BBQ from 12-3PM and will feature ribs, chicken, pulled pork, chicken wings, hot dogs, cheeseburgers, coleslaw, mac n cheese, and beans
A variety of drink will be available including beer, wine, water, and soda
Loxahatchee Ice Cream Co. will be serving 10 flavors of ice cream with 6 toppings
Cotton candy, snow cones, and popcorn will be available
Kids can enjoy 2 bounce houses
We hope to see you there for some great food and fun!
THE BOAT OWNER'S ASSOCIATION
The Juno Isles Boat Owner's Association is separate from JICA.
The Juno Isles Boat Owner's Association owns and operates the lift on the canal in Juno Isles. Learn more