Juno Isles Civic Association is the homeowners association of Juno Isles. Established in the early 1960s and located between U.S. 1 and the Intracoastal waterway in North Palm Beach County, Florida, Juno Isles is a thriving community of over 330 homes.
The last salinity report from the Northern Palm Beach County Improvement District was sampled on December 7th and was very high.
Cl was 1240 mg/L
Na was 290 mg/L
Sodium – Sodium exists in nearly all irrigation water and is not necessarily a cause for concern unless high concentrations are present. High concentrations (> 70 mg/L) can be detrimental to both turf and soils. Sodium in irrigation water can be absorbed by roots and foliage, and foliar burning can occur if sufficient amounts accumulate in leaf tissue. Grasses grown on golf course putting greens (creeping bentgrass and annual bluegrass) are particularly susceptible to sodium toxicity because they are mowed very short, irrigated frequently, and subjected to other stresses.
Chloride – Chloride contributes to salinity of irrigation water, and when concentrations are high enough, can be toxic to plants. Turfgrasses are not particularly sensitive to chloride, and can tolerate levels up to 100 mg/L. Turfgrasses can sustain injury when irrigated with water containing >355 mg/L of chloride. Turfgrass managers should be aware that some ornamental plants are sensitive to chloride concentrations above 70 mg/L.
The community did a wonderful job decorating for the holidays and the judges had a tough time choosing winners! Click here to view the winners for 2021 as well as some of the other decorated homes in the community!
Continue reading →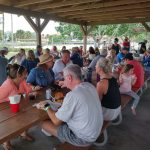 This year's community picnic was held at the Perry Como Pavilion at Ocean Cay Park and we had a great turn out! Lunch was catered by Park Ave BBQ and dessert provided by Loxahatchee Ice Cream Company. Residents enjoyed a great spread, time getting to know new neighbors and catching up with old neighbors, bounce … Continue reading →
THE BOAT OWNER'S ASSOCIATION
The Juno Isles Boat Owner's Association is separate from JICA.
The Juno Isles Boat Owner's Association owns and operates the lift on the canal in Juno Isles. Learn more