Juno Isles Civic Association is the homeowners association of Juno Isles. Established in the early 1960s and located between U.S. 1 and the Intracoastal waterway in North Palm Beach County, Florida, Juno Isles is a thriving community of over 330 homes.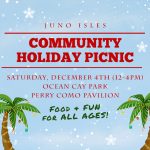 This year's Juno Isles picnic year will be held this Saturday, December 4th at the Perry Como Pavilion at Ocean Cay Park from 12-4PM.
Food will be catered by Park Ave BBQ from 12-3PM and will feature ribs, chicken, pulled pork, chicken wings, hot dogs, cheeseburgers, coleslaw, mac n cheese, and beans
A variety of drink will be available including beer, wine, water, and soda
Loxahatchee Ice Cream Co. will be serving 10 flavors of ice cream with 6 toppings
Cotton candy, snow cones, and popcorn will be available
Kids can enjoy 2 bounce houses
We hope to see you there for some great food and fun!
Thanks to everyone who attended or submitted their vote via proxy for the annual meeting. The three amendments up for vote at the annual meeting all passed:
Metal Roofs (Yes: 66, No: 28)
Setbacks (Yes: 81, No: 10)
Architectural Committee (Yes: 85, No: 6)
The following individuals were elected/re-elected for the board:
Steve Karlson
Chris Bauchman – New Board Member
Ron Hoehmann
Richard Milligan
Jennifer McMillan
Courtney Ricks – New Board Member
The annual meeting will take place Thursday, November 11th at Oceanview United Methodist Church. The meeting includes a vote on whether or not to allow certain metal roofs in the community. There will be a brief organizational meeting for board members (old and new) immediately following the meeting to select the officers for the new term.
We will do our best to observe social distancing protocols for this year's meeting, given ongoing concerns about the Covid-19 pandemic. Residents are, however, offered the option (as is the case every year) to attend the meeting by way of a mail-in proxy. Visit the Residents Only section for more information!
THE BOAT OWNER'S ASSOCIATION
The Juno Isles Boat Owner's Association is separate from JICA.
The Juno Isles Boat Owner's Association owns and operates the lift on the canal in Juno Isles. Learn more