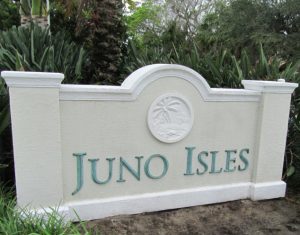 The Board is the duly elected governing body of Juno Isles Civic Association. Board members serve a two-year term. Members are elected to the board by a majority vote of homeowners properly represented in person or by proxy at our annual meeting. Interim vacancies may be filled by a majority vote of existing board members.
The Board's officers are elected by a majority vote of the Board.
There are no term limits and all Board members serve without pay.
2023 JICA Board
Jim Jackson – President
Anthony Foley – Vice President
Louis Conter – Secretary
Kevin Ogden – Treasurer

Christopher Bauchman
Ron Hoehmann
Jim Lilli
Jennifer McMillan

Richard Milligan
Courtney Ricks
Katherine Urquhart
View Board Member Bios (Residents Only)
Past Elections & JICA Board Members
2022 Board of Directors Election Results
The following Juno Isles residents were elected to 2 year terms:
Jim Jackson
Kevin Ogden
Jim Lilli - New Board Member
2021 Board of Directors Election Results
The following Juno Isles residents were elected to 2 year terms:
Christopher Bauchman - New Board Member
Ron Hoehmann
Jennifer McMillan
Steve Karlson
Richard Milligan
Courtney Ricks - New Board Member
2020 Board of Directors Election Results
The following Juno Isles residents were elected to 2 year terms:
Blas Contreras
Gavin Hart - New Board Member
Jim Jackson - New Board Member
Audra Hoover - New Board Member
Steve Hoover - New Board Member
Kevin Ogden
Jud Whitehorn
2019 Board of Directors Election Results
The following Juno Isles residents were elected to 2 year terms:
Ron Hoehmann
Jennifer McMillan
Tim Reever
Steve Karlson
Richard Milligan - New Board Member
Mark Sillence - New Board Member
2018 Board of Directors Election Results
The following Juno Isles residents were elected to 2 year terms:
Blas Contreras
Don Dahm - New Board Member
Kevin Ogden
Jud Whitehorn
2017 Board of Directors Election Results
The following Juno Isles residents were elected to 2 year terms:
Ron Dykes - New Board Member
Ron Hoehmann
Steve Karlson - New Board Member
Jennifer McMillan
Tim Reever - New Board Member
Amanda Sweetz - New Board Member
Lou Vilardo
2016 Board of Directors Election Results
The following Juno Isles residents were elected to 2 year terms:
Kevin Ogden
Blas Contreras
Jud Whitehorn
Mary Ann Martin
Elizabeth Bartholomew
Susan Czelustra
2015 Board of Directors Election Results
The following Juno Isles residents were elected to 2 year terms:
Ron Hoehmann
Jennifer McMillan
Brad Peebles
Louis Vilardo
Chris Williamson
Donna Zoeller